Key takeaways from the InvestOps Europe 2019 London conference
Operational leaders from the global asset management industry recently met in London to talk about the future of the sector and the solutions that could turn their most pressing challenges into opportunities; technology and data management were at the centre of the discussion.
Views from the conference
According to the expert panellists at the conference, more and more managers agreed that data management strategies have become a focal point for operations, both for regulatory purposes and in making effective investment decisions.
Operations need increasingly sophisticated technological solutions to streamline the data that supports investment and post-trade processing. Technology is seen as being particularly important in improving inter-departmental collaboration and supporting processes that require large scale coordination and widespread coverage.
As reported by Global Custodian, having a successful data management strategy within investment operations requires plugging all the gaps where data could be misinterpreted or not utilised as effectively. Moreover, as investment products become more complex, data quality is crucial to support these investments. Robin Middleton, Head of Investment Operations at Royal London Asset Management, explained the value of data to the key decision makers:
"The challenge is to build a business case around the data that can influence decision makers throughout the organisation. It is a hearts and minds battle and requires either a chief data officer or chief technology architect to hammer home the importance of data when investment decisions are being made".
Our take on the data management challenge
Our experience in providing a data management platform and related services to global banking and insurance clients mirrors those opinions in the asset management sector that the accessibility of accurate, timely and consolidated data should be at the heart of any decision-making processes that involve multiple stakeholders and not simply a function of IT.
From headcount forecasting and budgeting, to informed investment decisions, the corporate world is shifting from a centralised ownership model to a more collaborative mindset. By engaging multiple departments and functions in contributing high quality, up-to-date information from the bottom up, businesses will truly harness the 'wisdom of crowds'.
Who we are
LiveDataset is a data management platform with a proven track record and years of experience working with top tier investment banking and insurance clients. It is not just a modelling/data visualisation tool, but a solution to improve data management and data collaboration in complex corporate environments. It helps businesses to achieve large scale coordination without spreadsheets or complex ERP implementations. LiveDataset works to make sure that analysts can dedicate more time to value-added activities rather than data collection.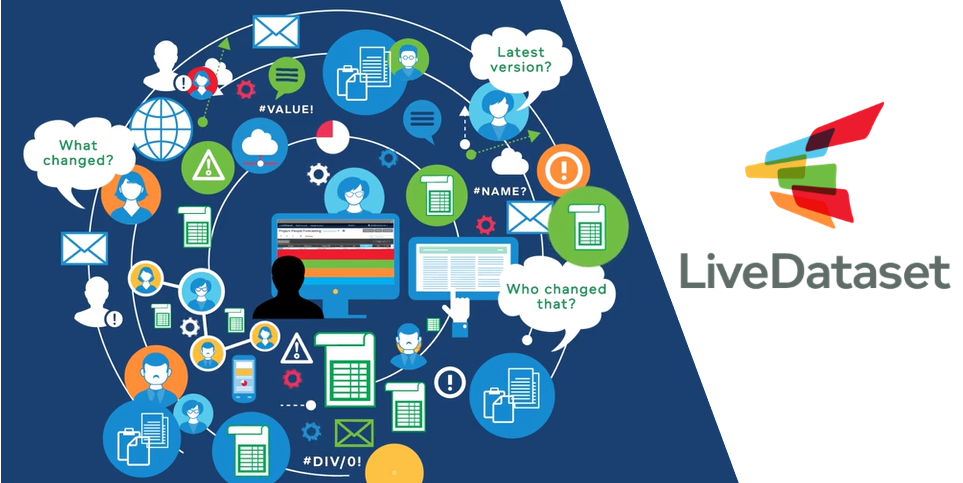 LiveDataset – Make Your Data Work